The Giesemann RAZOR LED as a compact lighting system leaves nothing to be desired. It is now possible to replace a fluorescent lighting with only one LED module. The reduced compared with many other LED strips not only the cost but also enables significantly lower energy consumption.
In RAZOR already the new ceramic LED additionally come from the CREE used. The XH-G LEDs are the first MidPower ceramic LEDs that really provide uncompromised performance and reliability. This new generation LED provides light levels up to 170 lumens per watt, which is roughly 15 times a light bulb!
HIGHLIGHTS:
Very high light output by using the latest generation CREE LED's
120° lensfree optics for 100 % lightoutput and even light distribution
Extreme high efficiency thanks to the true-dim driver technology
Up to 170 lumen/Watt lightoutput saves large amounts of energy
Optimised passive temperature management
Safe 12 Volt technology
Perfect colour composition with MLE and XHG LED
Optimized for MARINE aquariums based on the spectrum of Powerchrome AQUABLUE+ tubes
Very slim design
Flexible control of multiple light bars. (requires interface)
Wide even light distribution without spotting
Replaceable LED Boards
Various sizes to replace standard fluorescent tubes
Splash water protected housing can be installed in canopies
The USB cable is permanently installed
Black anodized aluminium profile – salt water resistant
Almost unlimited mounting possibilities
Several mounting options available
Each product is individually tested and certified
Incl. Light bar, meanwell driver and cables
There are numerous mounting options for RAZOR LED. The basic version of the housing is already provided with a mounting element, which allows the fixing of bolts or screws.
The light module can, for example, be easily inserted into our SPHERA aquarium cover. For special applications, we offer additional accessories.
Aquariumtype

Marine

Color

black

LED total power

18 W

Color temperature in K

16.000 K

Luminous flux in lumens

1.950 lm

Mounting option

Rope suspension optional

Dimming

No

cable lenght

180 cm

Lenght in cm

47 cm

Width (from left to right) in cm

5,5 cm

Height (bottom to top) in cm

1,8 cm

Replaces

-

Product type

Lightbar

Illuminant type

LED
We'll inform you if the price of this product will be changed according to your price alert.
No review available for this product.
Customers who bought this product also bought
Customers who bought this item also bought one of the following products.
Korallen Zucht Marine Fish Pellets 350 g / 750 ml
RRP 9,32 €
6,60 € *
0.35 kg | 18,86 € /kg
To cart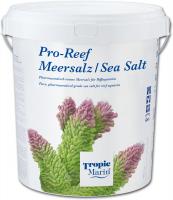 Tropic Marin Pro Reef Sea salt 25 kg bucket
RRP 105,16 €
62,85 € *
25 kg | 2,51 € /kg
To cart